Introduction to Test Facilities
Our extensive test facilities include a chassis dynamometer and eight transient engine dynamometer cells, all equipped with constant volume sampling (CVS) tunnels for emissions monitoring.
We have experience testing against many different emissions cycles, including NEDC (Euro cycle), FTP transient cycle, US06, JC08, Japanese 10 and 15 mode cycles and the Non Road Transient Cycle (NRTC).
All of our highly qualified engineers are directly involved in operation of the test facilities, promoting a hands-on and productive approach to solving technical challenges. Extensive in-house development of test system hardware and software means that we are able to offer an innovative, flexible approach which is essential for meeting new emissions challenges.
Transient Engine Dynamometers
Cambustion currently has eight transient test–beds with varying specifications.
Our rapid cooldown facility allows improved testing efficiency, while the pallet system allows the engine to be mounted and tested before installation in the test cell for reduced downtime.
Power up to 460kW
Torque up to 1,300Nm
Speed up to 9000RPM
CVS tunnels for emissions
Ambient temperature down to -20°C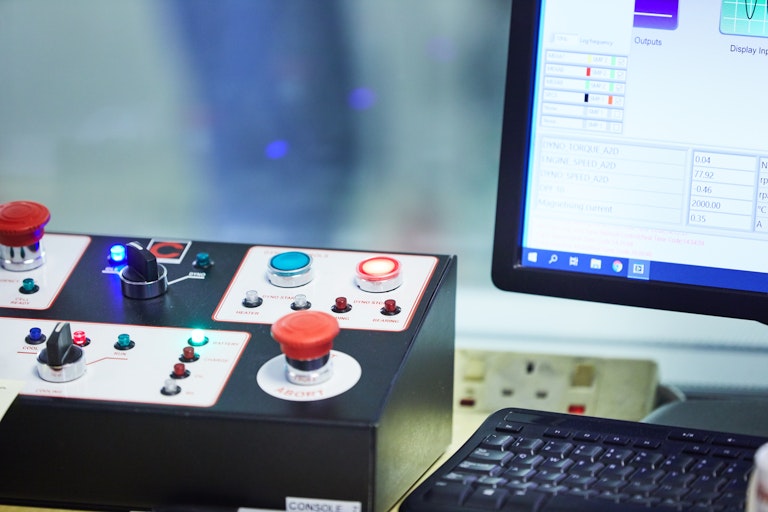 Chassis Dynamometer
Cambustion's 100kW 48inch emissions chassis roll dynamometer with robot driver and integrated pre–conditioning facility allows testing of complete vehicles against a range of transient drive cycles.
Rapid cool down of vehicles allows improved testing throughput.
Instrumentation
Cambustion Fast HC, NO (and optional NOx converter), and CO & CO2 analysers
Horiba 7000 series analysers for THC, CH4, CO, CO2, O2, NOx, and EGR (CO2)
Horiba UEGO lambda sensors
MKS FTIR analyser
Gravimetric filter paper measurements (2 phases per cycle)
Solid particle number counting system (PMP type)
Cambustion DMS500 Fast Particulate Analyzer
AVL opacimeter
Wide range of in-cylinder pressure sensors
Combustion analysis for IMEP, burn rates and knock detection
Pressure: 4 per test-bed (standard)
Temperature: 8, 16 or 32 channels per test-bed. Higher channel counts are possible
DPF Testing System
Cambustion offer additional DPF testing and development services using the non-engine Cambustion DPF Testing System.
DPF loading at up to 20g/hr
Filter efficiency measurement
DPF regeneration
Advanced tests- e.g. Soot Mass Limit
Cold flow testing
Diesel fuelled